Pitch Perfect 3 (2017) Review
AN "ACCA-DISAPOINTMENT"
---
In 2012, one of the hidden movie gems that year was the small budgeted musical comedy film Pitch Perfect; a film that shone a cinematic light in the cutthroat world of collegiate acapella singing. To the uninitiated, the movie follows freshmen Beca Mitchell and her singing cohort (the Barden Bellas) and the rise to the challenge in an acapella singing competition, bonding with each other and experience the trails and pitfalls of college angst. While the film didn't have much celebrity star power (with the exception of actress Elizabeth Banks), the film's musical scenes were the true highlight Pitch Perfect, playing acapella versions of famous songs (both familiar oldies and recent hits) as well in its comedic beats. Labeled as a "sleeper hit", Pitch Perfect was well-received from critics and fans and with its success, which made $117 million at the box office against its $17 million production budget, the film was greenlit for a follow-up sequel that materialized a few years later. 2015's Pitch Perfect 2 continued the narrative that began in the first film, following the Bellas as they find a new hopeful acapella singer (Emily), a new rival team (Das Sound Machine), a new competition, and new problems for them to overcome within their own group. While the movie faced some criticism (i.e. playing up a bit too much on fan-service moments), which made the film not quite as good as the first one, Pitch Perfect 2 scored big at the box office, making roughly $287 million at the box office against its $29 million production budget. This resulted in the movie becoming the highest grossing musical comedy film of all time, which dethroned 2003's School of Rock ($131.3 million). With success like that, the studio execs behind this franchise quickly greenlit a third installment, capping off the series as a trilogy with a final chapter. Now, Universal Pictures (and Golden Circle Films) and director Trish Sie present the third acapella film for the Bellas in the movie Pitch Perfect 3. Does this latest feature in the Barden Bellas end the franchise on a lyrical high-note or does it sore on its off-key premise?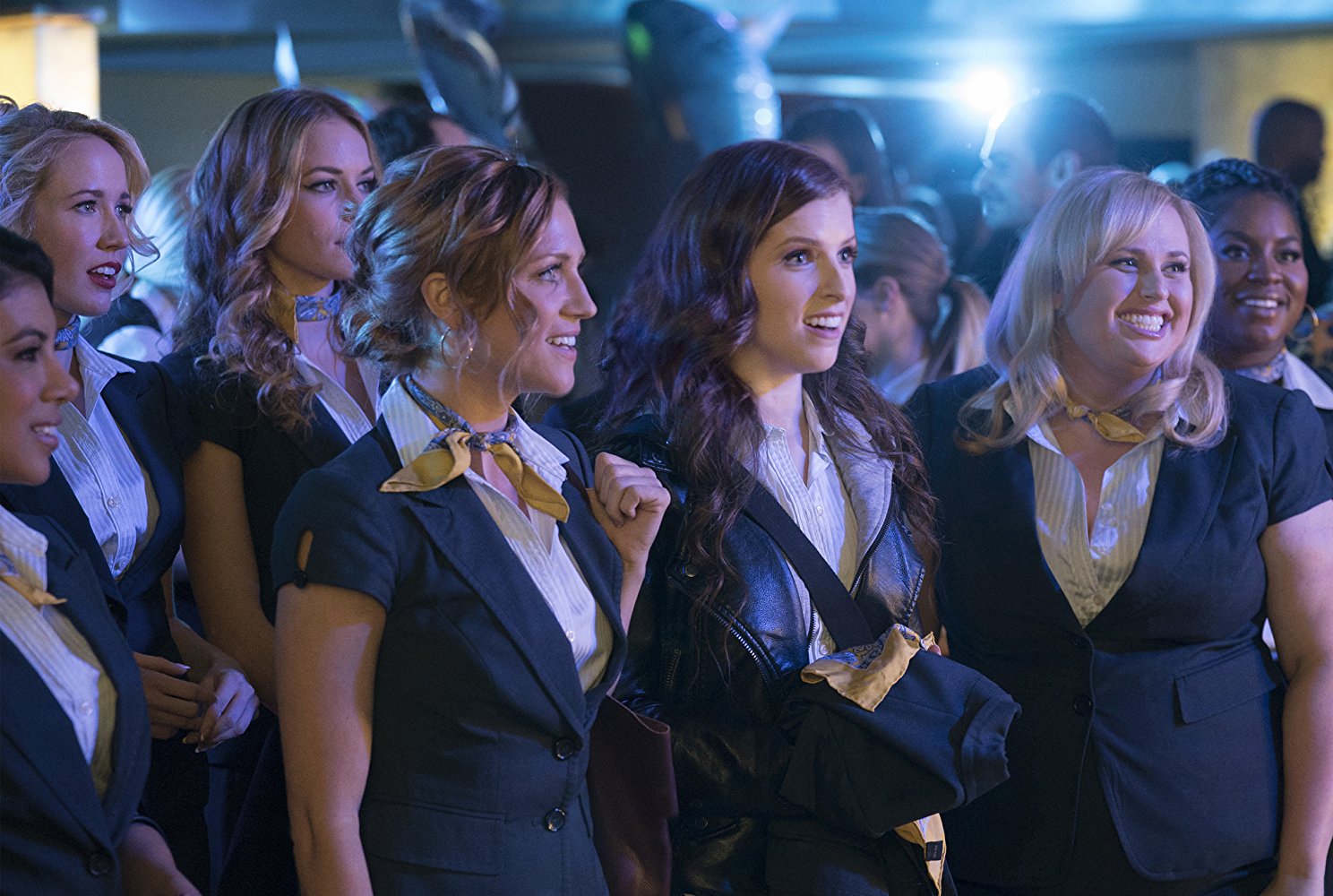 THE STORY
---
Picking up three years roughly after the events of Pitch Perfect 2, the Bellas are living their post-graduate lives and pursing their respective careers away from each other. Beca Mitchell (Anna Kendrick), their former leader of the group, works as a music producer, though the job she desired isn't necessarily what she envisioned it would be. Tired of the lackluster position, Beca quits her job, going home to tell her roommate and fellow Bella, Fat Amy (Rebel Wilson). To take her mind off her bad day, Beca, Fat Amy, and Chloe (Brittany Snow) head to a Barden Bellas reunion, hosted by the current acapella group, led by Emily (Hailee Steinfeld). However, when Emily reveals the original Bellas aren't actually going to perform like they expected, previous Bella leader Aubrey (Anna Camp) suggest a way for the downtrodden post-grads Bellas to reunite (and sing) one more time. Thus, the Bellas, consisting of Beca, Fat Amy, Chloe, Aubrey, Lilly (Hana Mae Lee), Cynthia-Rose (Ester Dean), Flo (Chrissie Fit), Jessica (Kelley), Ashley (Shelly Regner), and Emily (taking Stacie's (Alexis Knapp) place on the team), pack their bags and head to Europe to perform on a USO tour. Once there, the group quickly discovers of competition for a performance slot opening for DJ Khaled during the televised conclusion of the tour, pitting the Bellas three groups that use instruments, including an all-female rock group led by Calamity (Ruby Rose), which seems to them at a disadvantage. Meanwhile, throughout the tour, Fat Amy reconnects with her absentee father, Fergus (John Lithgow), Chloe charms up to fellow their military liaison, Chicago (Matt Lanter), and Beca's talent is noticed by Theo (Guy Burnet), one of the members of DJ Khaled team.
THE GOOD / THE BAD
---
As I stated in my previous review for Pitch Perfect 2 (read it HERE), I didn't see the original Pitch Perfect movie in theaters. I vaguely remember seeing the trailer for the film, but sort of dismissed it. However, I did hear a lot of my co-workers talking about it from time to time and my brother and sister-law were always talking about it and eventually got me to sit down and watch the film. Surprisingly, I liked it, finding Pitch Perfect to be a humorous comedy as well as musical feature with all the acapella singing throughout the film. After seeing it, I purchased my own copy of the film on Blu-ray and became a fan-favorite "go-to" movie to watch now and again to watch and to listen in the background as I'm doing work. Despite what critics and some fans said, I personally liked Pitch Perfect 2. Yes, it wasn't as good as the first one and had too many fan services moments in there (i.e. the riff-off scene taking up way too much time of the film), but it stilled carried the formula narrative that made the first one fun and entertaining as well as its musical acapella moments (just a bit more on a grander scale). Like its predecessor, Pitch Perfect 2 also became a fan-favorite "go-to" film to watch or to play in the background while I'm working around the house (or typing a movie review for my blog).
Thus, being a fan of the first two Pitch Perfect films, I was definitely excited to see what was in store for Pitch Perfect 3, the latest installment in this acapella / musical comedy trilogy. A read a few snippets here and there about the movie (via online) and the film's theatrical trailers got my hyped to see it, looking forward to seeing feature at the end of the year (i.e. December). So, what did think of it? Was it "acca-awesome"? Unfortunately, it wasn't. While it does tie up loose ends to conclude the franchise, Pitch Perfect 3 is a disappointing end to series, failing to capture the magic of the first two films and exchanging heart and substance for some awkward storyline scenarios. There's some parts to like, but the end result is a "acca-disappointment".
While actress Elizabeth Banks was going to helm this movie (after directing Pitch Perfect 2), she stepped down from the position as director Trish Sie, whose previous works include several shorts (Not Alone and Being Dennis) as well as the film Step Up All In, took up the mantle to direct Pitch Perfect 3. Like the trend of the last two films, Sie makes this threequel feature a PG-13 comedy of an all-female a capella group, with jokes and gags and the singing of musical notes. In that regard, Sie succeeds. There is a lot of meta humor in the movie, with Pitch Perfect 3 finding comedy within its various jokes and gags within callbacks jokes (i.e. the forgetful Bellas of Jessica and Ashley, Beca's poor choice of words when handling confrontations, Aubrey citing her dad's odd sayings, etc.) Also, this being a Pitch Perfect sequel, there's plenty of musical numbers scattered throughout the film, with a cappella / musical renditions of popular hits like Britney Spears's "Toxic", Sia's "Cheap Thrills", DCNE's "Cake by the Ocean", and Elle King's "Ex's & Ohs". Also, as to be expected, the film does have "Riff Off" scene that's pretty good, especially since it's a mixture of the Bellas riffing off against the other three bands on the USO tour.Additionally, the movie itself has that standard look and feel of a comedy movie, which is both a positive and negative. Thus, it sort of cancels each other out. What I mean is that the film's overall presentation is what you would expect for a Pitch Perfect film, for better or worse.
Unfortunately, Pitch Perfect 3 is far from being a great threequel. In truth, it's actually the weakest entry in the trilogy franchise.  Why is it? Let me explain…. While I had a strong desire to see another Pitch Perfect feature materialize, I believe that Pitch Perfect 2 sort of ended this tale of the a capella female group (on a good note). However, with the success of Pitch Perfect 2, a third entry was commissioned and further continued the franchise, which wasn't a good thing. As a whole, Pitch Perfect 3 lacks substance and heart. Yes, I know that the previous two installments have comical edge (heck the films are branded as musical comedies), but they still retain a sense of comedy-drama heart of young females bickering / embracing their friendship in both in and outside the Bellas. Pitch Perfect 3 seems more focuses on riffing on its self-depreciating humor (more than the Pitch Perfect 2 did) trying to please fans in thinking that the film (and its characters) are more self-aware of their oddball humor and out-of-the-box situations. Unfortunately, this direction ultimately hurts the movie rather than strengthening it, finding Pitch Perfect 3 to be parody unto itself (i.e. the jokes try to hard to be funny) and basically lacks the heart / emotional substance that the previous two films were able to sustain and achieve within it's a cappella story.
Another contributing factor was the decision to change up the narrative formula within the film.  While Pitch Perfect 2 followed a somewhat similar formula to the first film, Pitch Perfect 3 attempts to "shake up" that formula by adding a new storytelling element by means of adding a side-story action sequence that feels a bit reminiscent 2017's comedy flop Baywatch. Meaning that the action is bit on the silly side. The problem, however, is that…. why does Pitch Perfect 3 need to have action sequences? The film' script, which was penned by Kay Cannon and Mike White, seems to want to play up that scenario rather than following the more traditional narrative that many (including myself were expecting to see). Personally, it's really awkward to have this type of scenario within the context of a Pitch Perfect movie and sort of takes me out of the movie's story. Additionally, this out-of-place sequence takes up a lot of runtime, which isn't saying much as Pitch Perfect 3 is roughly one an hour and half long. This, of course, speaks to another problem, which is the fact that Pitch Perfect 3, due to this new angle, takes away from the actual plot of the Bellas and their USO show tour, along with their rivalry with the other bands on the tour. Speaking of the other bands, they barely make an impact on the movie. With the exception of the all-female band Evermoist, which starred the beautiful Ruby Rose (John Wick: Chapter 2 and Orange is the New Black) as the band's lead Calamity, the other two bands (a bluegrass country group and a duo DJ collaboration) feel left out and are only presented upon the initial first appearances. Sie and the writers try to make up a rivalry between the Bellas and the other bands, but it never really pans out correctly, feeling like an unfinished idea that's dropped about halfway through the film. Even the appearance of DJ Khaled seems a bit weird and undeveloped in the movie and by his extension his assistant Theo, who is played by actor Guy Burnett (Hand of God and Mortdecai) and takes a shine to Beca (although it's a feign romance).
Additionally, Sie makes the decision of not to include the male Pitch Perfect characters (Jesse Swanson, Bumper Allan, and Benjamin "Benji" Applebaum) in this newest installment. While Sie (along with Cannon and White) may felt differently about their involvement in the movie, I think it actually hurt the movie, with many fans out there (myself included) like the acting talents Skylar Astin (Graves and 21 & Over), Adam DeVine (Mike and Dave Need Wedding Dates and The Intern), and Ben Platt (Ricki and the Flash and Billy Lynn's Long Halftime Walk). Plus, the movie quickly dismisses them from the narrative rather quickly (i.e. similar to Catherine Zeta Jones and Julia Roberts characters in Ocean's 13), which is disappointing.
Also, the film's ending song, which is supposed to be traditional big finale song of the feature, seems a bit lackluster, especially in comparison to the other two movies. Singing an a capella version of George Michael's "Freedom" is nice, but the song doesn't have that extra "oomph" to like the Bellas mashup from the first film or the mashup / original song from the second movie. To me, it kind of felt like a disappoint ending song to close out the movie.
In my opinion, the Pitch Perfect franchise has the "Mighty Ducks" syndrome. What do I mean by that? Well, in case you didn't know, the Mighty Ducks is a kid's hockey sports comedy film franchise that produced three films (1992's The Mighty Ducks, 1994's D2: The Mighty Ducks, and 1996's The Mighty Ducks). If you think about it…. the Pitch Perfect trilogy follows the same path as the Mighty Ducks trilogy, with the first movie following a ragtag underdog team facing off against their regional rival, followed by the international competition against the big, bad European team, and then the third installment is mostly for their own pride (i.e. the Mighty Ducks facing off against the varsity team and the Bellas facing off against the other touring USO bands). In truth, while the Mighty Ducks franchise was good (as a whole), most fans out there will probably agree that D3: The Mighty Ducks was probably the weakest entry in the franchise, which the same thing can be said for Pitch Perfect 3. It just simply can't measure up two its previous installments and concludes the tale of the Bellas on a whimper.
Much like the previous sequel, Pitch Perfect 3 sees the return of all the principle cast for the Bellas, primarily focusing on its leads / fan-favorite ones, which are the highlight of the feature. To be fair, the assemblage of the core group of actresses are the signature strong element of these movies, but the movie does seem to make motion to shine a light on these particular characters a bit more. At the head of the pack is actress Anna Kendrick, who plays the series main protagonist character of Beca Mitchell. Known for her roles in the Up in the Air, Trolls, and Get a Job, Kendrick continues to be fairly good in her role as Beca. Yes, it's really an academy award winning role, but Kendrick proves to be effective in it, providing the mandate for the comedy angst of the Pitch Perfect films as well screen presence to be a lead character. Although, the character arc for Beca in Pitch Perfect 3 is pretty much a bland and slightly reworked version of variations from the previous installments, finding the young adult caught between following her passion and staying with the Bellas. It works for what the movie needs to be, but all seems a bit redundant, especially within the context of the film's storyline.
Behind Kendrick's Beca is fan-favorite character of out-spoken Bellas character Fat Amy (i.e. Patricia), who is played by actress Rebel Wilson. Known for her roles in Bridesmaid, How to be Single, and Super Fun Night, Wilson has proven that she's capable of handling comedy roles, especially within the Pitch Perfect movies. However, her comedy routine as Fat Amy has gotten stale and almost feel that she's (Wilson) doing a parody of the character, which sounds odd but true. It also doesn't help the fact the film's new direction seems to focus on her, especially during the second half of the movie, which places more emphasis on her Fat Amy shtick. As a new character to her storyline, actor John Lithgow (Cliffhanger and Daddy's Home 2) plays Amy's estranged father Fergus. While Lithgow's performance is solid enough, appearance of his character in Pitch Perfect 3 just seems to take away from the overall narrative and as his storyline starts to takeover the second half of the feature. Again, I understand the desire to change the formula of the franchise, but it almost becomes the "Fat Amy and Fergus" show for a good chunk of the film….and that's not good.
Next, actress Brittany Snow returns as fellow Bella Chloe Beale. Known for her roles in Hairspray, Harry's Law, and American Dreams, Snow continues to be another key figure in the franchise, a close third behind Kendrick's Mitchell and Wilson's Fat Amy, finding her strong desire to sing with the Bellas once more in this movie as well as finding a new romance with their military liaison character Chicago, who is played actor Matt Lanter (Star-Crossed and Timeless) and who also does a fine job in his supporting role. That being said, it's kind of weird that Chloe finds love in Chicago, especially since the series, including this movie, continues to play up her character's bi-sexuality, which is mostly played up for laughs. Lastly, of the four leads, actress Anna Camp returns as previous Bella leader Aubrey Posen. Camp, who is known for her roles in The Help, True Blood, and Good Girls Revolt and who is also married to Pitch Perfect alum Skylar Astin, does get more to do in this movie than in Pitch Perfect 2, which was more like a large cameo role, with Camp showcasing her understated comedy bits as Aubrey.
The rest of Bellas, including actress Hailee Steinfeld (True Grit and Edge of Seventeen) as Emily Junk, actress Hana Mae Lee (The Babysitter and Love Beats Rhyme) as Lilly Onakurama, actress / songwriter Ester Dean as Cynthia-Rose Adams, actress Chrissie Fit (The Subpranos and Filly Brown) as Florencia "Flo" Fuente, actress Alexis Knapp (So Undercover and Project X) as Stacie Conrad, actress Kelley Jake (42 and Roomiess) as Jessica, and actress Shelley Regner (Youthful Daze and McMann & Bernstein) as Ashely, have their moment to shine in the movie, but most get shortchanged due to its large cast, finding most of these character filling out the background with one or two moments in the spotlight, which is disappointing since this is the final chapter of these Bellas. Additionally, the other two Pitch Perfect characters, those two being actor John Michael Higgins (A Mighty Wind and Best in Show) and actress Elizabeth Banks (The Hunger Games and Power Rangers) as acapella commentators John Smith and Gail Abernathy-McKadden-Feinberger, return in Pitch Perfect 3, playing a similar part to the two previous films as they follow the Bellas (once again) throughout their tour. Unfortunately, while Higgins and Banks are talented individuals, most of their inappropriate comedy banters, which was fun in the first two entries, seems bland and unfunny; begging the reasons as to why these two characters were brought back. My guess for just a humorous continuity one, but their inclusion in Pitch Perfect 3 is a bit awkward and feels shoehorned in
FINAL THOUGHTS
---
The Bellas are back again and as they prepare for their journey on the USO tour, facing new problems and new challenges along the way in the film Pitch Perfect 3. Director Trish Sie's newest film finds the post-grad Bellas on a new adventure that's filled with the series signature of verbal comedy beats, musical singing moments, and fan-service within certain characters. Unfortunately, the film's new agenda angle is awkward and totally out-of-place for the series, which completely hinders the film from reaching as well as unfulfilled character arcs and development of the movie's central narrative. Thrown in some dry comedy gags, several pointless sub-plots, and a lackluster finale ending and the end result is a film that feels mismanaged and slapdash put together. Personally, I was disappointed with this movie. Yes, there were some parts that I liked it (mostly the musical acapella parts), but the movie just felt so disjointed and uninteresting that this movie's new directions alienated me from fully liking it (even from an entertainment escapism context), which saddens me as I really like the Pitch Perfect franchise. Thus, my recommendation for this movie is definitely a "skip it". Some diehard fans out there might like this entry in the Bellas saga, but mostly everyone will find it lacking spunk and being a wasted final installment. In the end, Pitch Perfect 3 marks the conclusion to what began in 2012 as the Barden Bellas, a comical female group of a capella singers, started on a strong high-note and end on disappointing on a sour and off-key one. I reiterate what I said above, Pitch Perfect 3 is an "acca-disappointment".
2.4 Out of 5 (Skip It)
Released On:

December 22nd, 2018
Reviewed On:

January 15th, 2018
Pitch Perfect 3  is 93 minutes long and is rated PG-13 for crude and sexual content, language, and some action