Finding Dory Review
FOLLOW THE SHELLS
AND JUST KEEP SWIMMING
---
Back in 2003, Disney's partner animated company, Pixar Animated Studios, released their fifth full length feature film titled Finding Nemo. Directed by Andrew Stanton, Finding Nemo told the story of Marlin, an overprotective clownfish, who, along with Dory, a regal tang fish who has problems with her short memory, searches for his son Nemo from their home to Sydney Harbour. As the movie progresses, Marlin learns to take risks and ultimately comes to terms with Nemo growing and taking care of himself. Made for only $94 million, Finding Nemo, beloved by fans and critics everywhere, went on to gross over $936.7 million globally, becoming the highest grossing G-rated film of all time (until 2010 when Pixar's own Toy Story 3 relinquished that crown). Still, Finding Nemo went on to becoming a success, even garnishing an Academy Award for "Best Animated Feature". Now, almost 13 years later, Disney, Pixar, and Andrew Stanton return to beneath the sea once again with their seventeenth feature Finding Dory. Is this sequel to the 2003 movie worth a glance or is it "too little, too late" for this fishy second installment?
THE STORY
---
A year after their first journey of crossing the ocean to save his son Nemo (Hayden Rolence), Marlin (Albert Brooks), and Dory (Ellen DeGeneres) live together, creating a sort of cohesive family for Dory as she tries (daily) on coping with her short-term memory. While undertaking a field trip with Mr. Ray (Bob Peterson), Dory's memory is suddenly jogged by a lesson on migration, recalling her early years spent with her cautious parents Charlie (Eugene Levy) and Jenny (Diane Keaton). Determined to find her long-lost love ones, Dory chases down her obscures clues to find them, with Marlin and Nemo to help escort their friend from Australia to California's Monterey Marine Life Institute, where they're immediately separated. As Marlin and Nemo try to figure out way into the faculty with the help from a pair of sea lions Fluke (Idris Elba) and Rudder (Dominic West), Dory finds herself trapped in a rehabilitation holding area, meeting the octopus Hank (Ed O'Neill), who wants to escape and live the "good life" in a Cleveland aquarium tank. Trying to hone in on her collective memories in her scattered brain, Dory, with some help from Hank, journey through the facility, receiving additional help from Destiny (Katlin Olson), a nearsighted whale shark, and a beluga whale named Baily (Ty Burrell), inching ever closer to goal of being reunited with her parents.
THE GOOD / THE BAD
---
I actually do remember going to the theaters to go see Finding Nemo all the way back in 2003 (I remember because I just graduated from high school a few weeks prior to seen it). I instantly loved it. It was great animated movie that was filled with colorful animation, fun characters, plenty of comedic jokes, and such a heartwarming narrative about of a father and son. Like many, I personally look upon Finding Nemo as one of the top movies in Pixar's illustrious film catalogue (up there with Monsters Inc., Inside Out, and some of the Toy Story movies). To me, I didn't particularly care for Pixar's most recent movie (The Good Dinosaur) as I gave it a passing review grade because of its visually aesthetic and some ideas, but it was one of my least favorite ones (probably behind Cars 2).  Thus, I was a tad bit leery to see Finding Dory, with The Good Dinosaur leaving a mediocre taste in my mouth and feeling that Pixar was maybe losing its touch. However, after seeing the movie, found that not to be the case, for while it's not as creatively original as the first film, Finding Dory still retains all the nuances of predecessor, ensuring a satisfying viewing from onset to conclusion.
Finding Nemo director Andrew Stanton, who also directed Wall-E, John Carter, and has lent a helping hand in Pixar Studios in various positions (Animator, writer, producer), returns to underwater world that he created long ago. Stanton seems to embrace the spirit of the first film, infusing Finding Dory with plenty of nuances that made up the first movie. Basically, if you liked the Finding Nemo, you'll be quite happy with its intended sequel. With great gap of thirteen years set between release date of the two features, Finding Dory has a significant upgrade in its animation. The environments are more elaborate and detailed with the film using some creative set pieces that probably couldn't be done (or rendered) in the previous movies, the designs of each of the characters also benefit to the enhances in animation as each one of the various characters are brought to life with colorful textures (especially some of the human characters who do look ten times better than they did in Finding Nemo).
While it's not as deep as Finding Nemo was, Finding Dory still has its moments of tenderness. In true Pixar fashion, Stanton utilizes the "Pixar signature touch" to Finding Dory, creating a heartwarming tale that has some positive messages and touching overtones. While The Good Dinosaur felt too mechanic in this undertaking (i.e. going through the motions of trying to get some tears out of its viewers), Finding Dory definitely feels more genuine in this regard and counterpoint to its first installment. There's several "tender" moments in the movie that tug on your heartstrings and do work with the film rather than against it. While Finding Nemo reflected upon the relationship between an overprotective parent and their child, this sequel expresses the challenges of coping and trying to overcoming a "disability". Yes, Finding Nemo did touch upon that briefly with Dory in that film, but its brought into the foreground spotlight this go-round, presented as one of the main arcs in Finding Dory. While I know many kids (ranging from youngsters to tweens) are very much eager to see this movie, I think it's definitely a great movie for them see (especially those who might have "learning disabilities") as the moral of the movie is that anyone can achieve a desired goal if you put your mind to it, despite your own personal limitations. Maybe this message resonates with me on a personal level as I was coded with having a "learning disability" in school (A.D.D) and to overcoming as grew up. Thus, I think its definitely a great message for not just kids, but for adults as well.
Like I said, Stanton knows "the undersea" world and jumps right back into with Finding Dory, balancing the right measure of the film's aspects (comedy, drama, tender moments, etc.) to make a complete picture-esque tale to its predecessor. Thus, the movie never feels unbalanced when it shifts gears from moments of levity to more sensitive scenes. In truth, the movie is a bit more fun than Finding Nemo was as I found myself laughing a bit more than I did in the first feature. Also, I must also mention the film's musical score, composed by Thomas Newman, is sublime, with its lighthearted melodies when action or excitement is presented on-screen and somber tones when sadness / sympathy is indeed to be invoked.
Finding Dory, for all its colorful textures, comedy, and nuances, can't escape its own problems that harken back to its predecessor. The big thing is that the Stanton and his screenplay co-writers (Bob Peterson and Victoria Strouse) seems to be echo Finding Nemo a little too much, drumming up familiar narrative plot beats from the first movie. In truth, the whole first act feels almost identical to the 2003 feature (just a bit compressed) as Finding Dory doesn't come into its own until the second act. However, even after that point, there are still some common troupes and echoing messages from either Finding Nemo and / or classic animated tales. In addition, while Finding Nemo felt big and grand (i.e. Marlin and Dory venturing across the vastness of the ocean to find Nemo), Finding Dory is a tad bit smaller in scale. Sure, the picture is tighter with plethora of good wholesome fun and poignant storytelling, but it's not an epic journey of sorts like the last feature was.
Naturally, being an animated movie, Finding Dory boasts an impressive cast of actors and actresses to voice-cast the movie's colorful characters. Being the break-out character in the first movie, the lovable Dory is brought under the spotlight as the main protagonist in Finding Dory. Of course, while her character design is adorable looking (with her big eyes), Dory is truly brought to life by the talented Ellen DeGeneres. DeGeneres's plucky fast talking voice works just as well as it did in the first movie and also nails all the sympathetic scenes that are need in the story. In short, whatever your stance is on 58-year-old actress, DeGeneres is Dory. Plain and simple. And I wouldn't have it any other way. While Dory is the making focus, Finding Dory sees the return of her good friend Marlin and Nemo, played respectfully by Albert Brooks and Hayden Rolence. Both actors give solid performances, return to their character with effortless ease and the dynamics between the three of them (Marlin, Dory, and Nemo) is still excellent as if no time has passed. Marlin and Nemo are present in the film's story, with their own little father/son story arc continuing from the first film, but they are, more or less, pushed to the side a bit. This is understandable as the film is about Dory (it is called Finding Dory for a reason).
Finding Dory also sees several new characters joining the ranks to help and aid Marlin, Dory, and Nemo on their journey. Perhaps the best new addition is the octopus (or rather the septopus) Hank, who is voiced by Ed O'Neil. O'Neil's character definitely the big scene stealer in Finding Dory as he placed "straight man" role (similar to Marlin in Finding Nemo) to Dory's plucky comedy angst of forgetfulness. Behind him are Kaitlin Olson and Ty Burrell as Destiny, a near-sighted whale shark and Baily, who lacks his echolocation senses. The two play off each other and fight and act like a "old marry couple", which is hilarious. There's also Diane Keaton and Eugene Levy who join the movie as Dory's long lost parents Jenny and Charlie. Then there's the two sea lions Fluke and Rudder, played by Idris Elba and Dominic West, who are present in the movie for comic relief and are great at it. I laughed every time they were on-screen. There's also several "cameo-like" voice appearances in the movie, including Bill Hader and Sigourney Weaver in a very humorous performance role. As a last side-note, Bob Peterson returns to reprise his role as the school teacher stingray Mr. Ray as well as Andrew Stanton as the Calfornia Surfer-esque sea turtle Crush.
Also, before I forget, stay tuned for an after credit scene that features several familiar faces from Finding Nemo.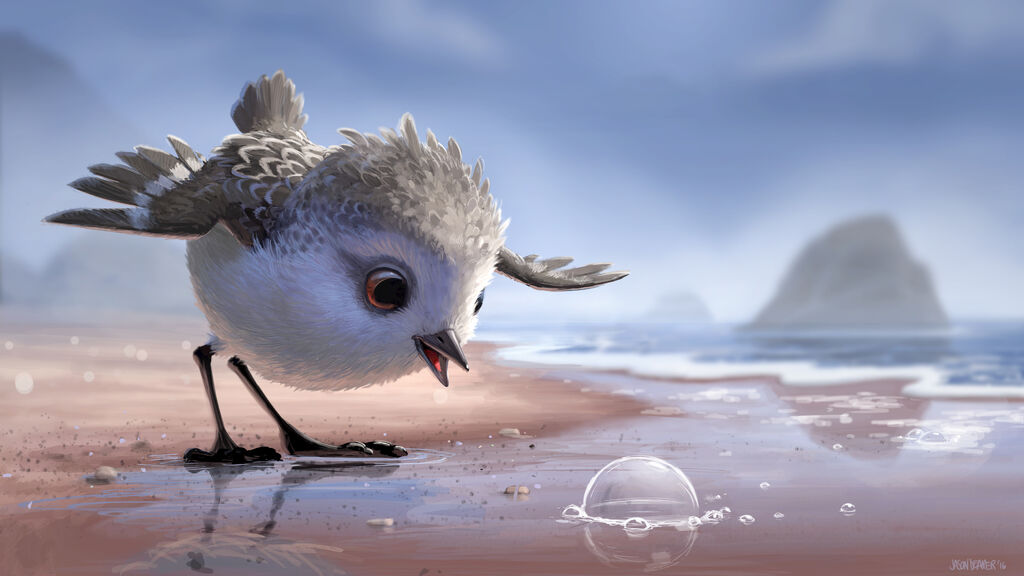 Lastly, a Pixar animated short is attached before Finding Dory begins. Titled "Piper" the animated short follows the story of a hungry baby sandpiper learning to overcome his fear of the water. Alan Barillaro, a Pixar animator and director of Piper, drew inspiration by watching birds near the shoreline (near Pixar's main studio headquarter in Emeryville, California). The animation for Piper is spot on (the way how they make sand look is incredible). As I've said already before with the previous shorts (that were attached to past Pixar movies), these animated shorts have been getting better and are definitely are a delightful and entertaining treat to watch.
FINAL THOUGHTS
---
Marlin, Nemo, and host of new characters help Dory find her parents in Finding Dory. Director Andrew Stanton's latest Pixar animated feature certainly does breathe to life into the original 2003 movie with a sequel that carries the same classic pedigree of detail as well as Pixar's signature touch. While a familiar and repetitive nature does set in at various points (and lacking an epic journey feel), Finding Dory is still a tight feature, with a good helping of dazzling animation, elaborate set pieces, great voice talents (both old and new), and an excellent touching story. Personally, I thought the movie was great. Yes, it does borrow some familiar plot beats from Finding Nemo, but, for the most part, it still retains an endearing tale that's full of laughs and heart. Thus, I would personally "highly recommend" this feature to be view for all, both little ones to grown adults (it definitely has something for everyone). Ultimately, was Finding Dory better than Finding Nemo? No, but it makes a sincere gesture in its undertakingWhile many not be on board with Pixar's latest trends of prequels, sequels, and spinoff films, Finding Dory is one of those exceptions as Stanton and his team return once again beneath to sea to tell a colorful tale of family and friendship.
4.2 Out of 5 (Highly Recommended)
Released On:

June 17th, 2016
Reviewed On:

June 17th, 2016
Finding Dory  is rated G