Muppets Most Wanted Review
NEW MOVIE, OLD TRICKS,
BUT STILL GREAT MUPPET FUN
---
Back in 2011, Disney's film The Muppets did exactly what it was suppose to do; reawaken those loveable puppets to audiences everywhere (Which it did). Kermit, Miss Piggy, Gonzo, and the whole Muppet gang danced, sang, and warmed their way into our hearts as the film became an instant smash hit. The film went on to become the highest grossing Muppet film in its franchise and even snagged an Academy Award for "Man or Muppet" in the best song category. Three years later, Disney releases its inevitable sequel to 2011 hit titled Muppets: Most Wanted. Does the film surpass its esteemed predecessor or has the magic gone out for everyone's favorite puppet Muppets?
THE STORY
---
Immediately following the end of the previous film (The Muppets, if you're keeping track), the Muppet gang, with their popularity restored, gets a new manager named Dominic Badguy (Ricky Gervais), who pronounces his last name as Bad G). Dominic has big plans for the Muppets; a plan to take their zany variety show around the world, which puts Kermit the frog on the outskirts as the Muppets ipso facto leader. To my matters worse, Kermit is then switched by a look alike Kermit who turns out to be the recently escaped criminal mastermind Constantine, who Dominic is working for. With Kermit been sent to prison as a mistaken identity for Constantine, Dominic and Constantine, now masking himself as Kermit, lead the clueless Muppets from city to city; inching ever closer to their ultimate plan to steal England's Crown Jewels. It's up to the bumbling efforts of the C.I.A, Interpol, and a handful of Muppets to spring Kermit from prison and put a stop Constantine and Dominic from achieving their goal.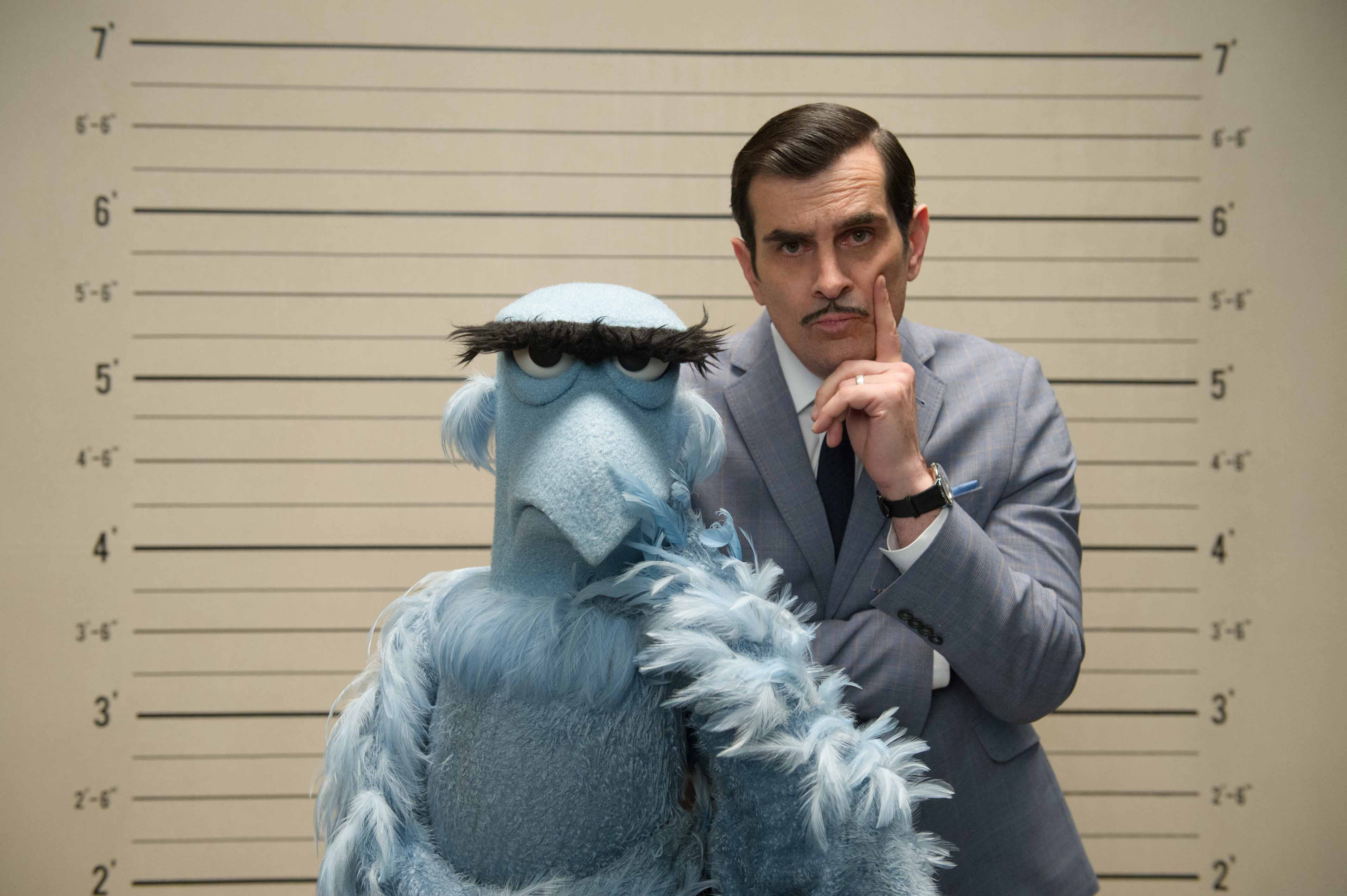 THE GOOD / THE BAD
---
First and foremost, let's get the obvious question out of the way. Is Muppets: Most Wanted better than 2011's Muppets? Well, the short answer is yes and no, depending on how you look at it. The movie's great drawback is that it lacks that emotional heart and moving story that was cultivated in the previous movie. It is possible that it could be from the absences of Jason Segel, who starred and help write the screenplay for The Muppets, but who bowed out in partaking at hand in Most Wanted, Even with Segel's departure, the other core creative team from the last film, including James Bobin (Director and screenplay), Nicholas Stoller (Screenplay), and Bret McKenzie (Song Composer) return for Most Wanted in their respectful roles. Perhaps they knew that couldn't top the last movie, so, rather than outshining it the previous film, decided upon a narrative that took Muppets in another direction; feeling more reminiscent to earlier Muppets installments (closely resembling The Great Muppet Caper).
The film itself is also aware of the inherit hype that surrounds Most Wanted; poking fun at its shortcomings including the film's opening song titled "We're Doing A Sequel" where one line of the song states that "Everybody knows that the sequel's never quite as good". In truth, that line fits perfectly for this movie is and, while it's not as moving and strong (Storytelling wise) than its 2011 predecessor, Most Wanted is definitely entertaining and feels like a classic Muppets movie. Of course, that wholesome good natured comedy from all the other Muppet films is promptly displayed in this movie, especially watching scenes like Constantine trying to imitate Kermit's voice with a thick (But jokingly) Russian accent or when Constantine, overwhelmed with stage fright to a sold out venue, faints unexpectedly. Its scenes like those (And many others in the film) that produces great belly laughs.
Like before, the aspect of the stage show is used once again as Constantine and Dominic lead the Muppets from Europe city to another, utilizing its appeal from a Spanish opening in Madrid, Spain to a dancing waltz duet between the Muppet Sweetums and none other than Christoph Waltz in Berlin, Germany.
Though the previous film did have numerous songs, which included one that one an Oscar, they're not all memorable. In comparison, the songs featured in Most Wanted are downright catchy; offering a unique personality with each song that fits the character singing. "We're Doing A Sequel" is probably the big highlight song of the film with other notable ones like establishing the accommodations at the Russian Gulag prison titled "The Big House", the quirky investigative "Interrogation Song", and Miss Piggy's dramatic fantasy "Something So Right" featuring the talented Celine Dion. The movie even interjects an old fan favorite at the film's ending; reprising the song "Together Again" from The Muppets Take Manhattan.
The human element in Most Wanted fares well with three well-known actors leading the charge. Tucking away his crude and sarcastic adult humor, Ricky Gervais is to be having fun when embodying his character of Dominic with his one-liners and "Tit-for-tat" dialogue with Constantine. He even does a duet with the villainous frog about how he (Dominic) has a subservient number two status to Constantine. Next is Ty Burrell who does a slight impersonation of Pink Panther's Inspector Clouseau when playing Interpol detective Jean Pierre Napoleon. Burrell is perfectly matched up with Muppet Sam the Eagle, who works for the C.I.A as the two try to outmatch each other; feeling much like a mismatched buddy cop story. Finally, there is Tina Fey's Nayda, a tough love Russian Gulag prison warden who shares most of her screen time with Kermit. Much like Burrell's French accent, Fey's does an uber stereotypical Russian accent, which is quite comical and who is clearly having a grand time participating in this movie, for only in a Muppets movie would see her singing and dancing alongside Kermit the Frog, Ray Liotta, and Danny Trejo.
Also, it wouldn't be a Muppets movie without its Hollywood / celebrity cameos that pop in and out of this comical feature as Most Wanted has these in abundances. Making appearances are Tony Bennett, Lady Gaga, James McAvoy, Tom Hollander, Hugh Bonneville, Sean "Diddy" Combs, Usher, Stanley Tucci, Zach Galifianakis, Tom Hiddleston, Til Schweiger, and Selma Hayek just to name a few. Each cameo, though relatively short, are hilarious; leaving a lasting impression on this zany Muppets movie.
FINAL THOUGHTS
---
While 2011's The Muppets film revitalized everyone favorite Muppets, proving once again their franchise is an enduring and viable one, Muppets: Most Wanted spring boards off that success; delivering the fun and chaotic entertainment that accompanies watching these movies. Sure, the film may be a little offbeat, lacking the heavy hitting narrative of its predecessor, but with its goofy humor, catchy musical numbers, zany characters (both humans and Muppets), and a sprawling list of celebrity cameos makes Most Wanted a satisfying sequel movie that slowly crawls its way into your heart and relentlessly tickle your funny bones. Thus I would recommend this movie for those who love the Muppets (both young and old) or just want something to pass the time away by watching something enjoyable. After all, you can't go wrong with Muppets.
4.0 Out of 5 (Recommended)
Released on:

March 21st, 2014
Reviewed on:

March 22nd, 2014
Muppets Most Wanted  is rated PG for some mild action